Embroidery, Screen, UV & Digital Printing Services
We are the best Screen printing, digital printing and UV Printing company in Abu Dhabi, UAE. we deliver our customers a quality product no matter what they need to be Printed, how quickly they need it to be done, where ever they want it to be delivered or whatever the size of their printing job.  We can rest assure that you will receive the best printing services in Abu Dhabi, along with the greatest level of customer service.
SCREEN PRINTING in abu dhabi
Kadsons provides the best affordable and quality screen printing services in Abu Dhabi. We have invested in state-of-the-art screen printing and exposing machines that allow us to provide high-quality prints every time. Our screen printers are certified screen printers with over 5 years of experience in screen printing techniques and solutions. There have been many instances where other screen printing service providers in Dubai have accepted jobs from clients, especially ad agencies or freelancers, and due to a lack of knowledge about inks exposing and curing the color or print has simply washed away when the first use in a dishwasher or color loss due to high exposure in the sun, etc.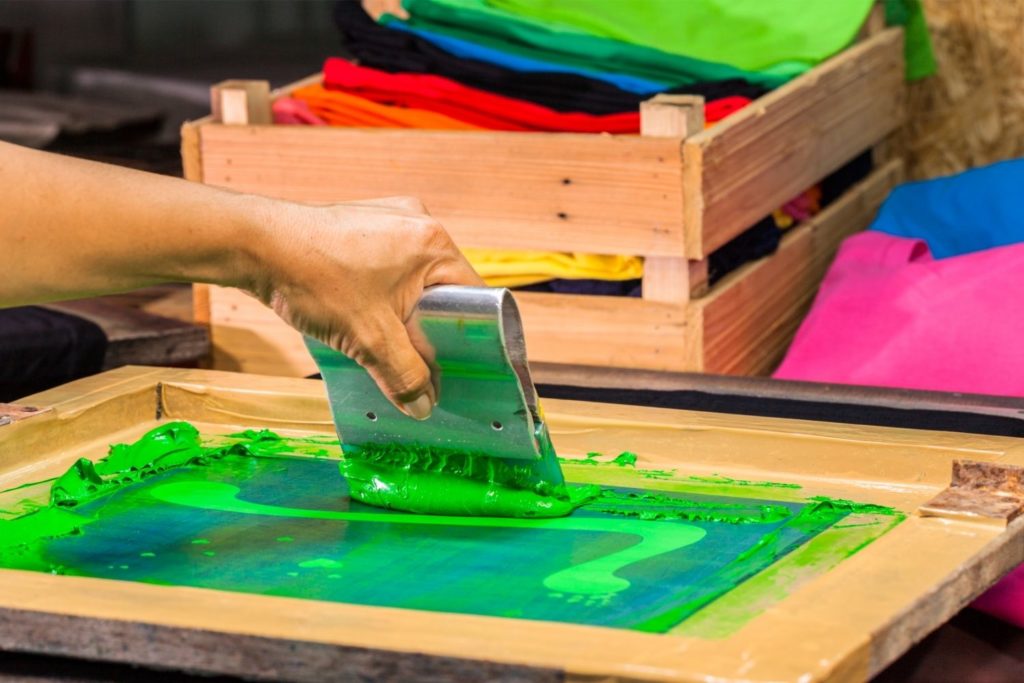 UV printing in Dubai has the capability to print on substrates of up to 5cm thickness while providing near-photographic image quality. As one of the top companies for UV printing in Dubai, we provide solutions for retail displays, signage, banners and posters, wood décor, acrylic plaques, glass and metal panels, and many more.
Our production group has been carefully trained on this new print technology; to provide you the affordable and quality UV printing services in Abu Dhabi. New applications are surfacing weekly. If you have a specific new need for direct printing onto substrates, contact us. We look forward to arriving with you at a satisfactory solution.
EMBROIDERY service in abu dhabi
Kadsons is offering the best quality Embroidery Services in Abu Dhabi, Dubai, UAE. We have been providing Embroidery Services in Sharjah and all over UAE for over 5 years. We aim to provide great quality Embroidery Services UAE-based clients can imagine with exceptional features.
Operating under a concept of total commitment to our clients. We are proud to introduce ourselves as a leading company in the field of Computerized Embroidery, Screen Printing on Garments, Labels & tags, and the Uniforms Manufacturing Industry. Our aim is to stay ahead in the field by providing all types of services in an effort to meet all our Customer's needs and demands.
Whatever your choices are we can promise you the finest hand engraving service in Abu Dhabi, Dubai, UAE. When you are looking for a personal way to present a gift, look no further than Kadsons. We are a full-service engraving and embroidery company, using the latest technology available. We offer metal engraving on anything from fine jewelry to industrial metals, laser engraving on wood, acrylic, glass and leather, and sandblasting on glass, crystal and marble. From a simple monogram to an engraved photograph there are unlimited ways to create uniquely personalized products. 
To cut or etch (letters, designs, etc.) into a hard surface, as of metal, stone, wood or glass.
HEAT TRANSFER PRINTING in Abu Dhabi
Your custom logo or design is printed onto transfer paper and then ink is thermally transferred from the paper to your fabric using heat and pressure.
We provide the best quality and affordable heat transfer printing services in Abu Dhabi, Dubai, UAE. we specialize in heat transfer print on t-shirts with various designs and colors with your corporate logos and captions. we provide the best quality and affordable t-shirt printing in Abu Dhabi. We produce sports wear with player names and numbers accordingly. We make heat transfer in small quantity or in bulk.